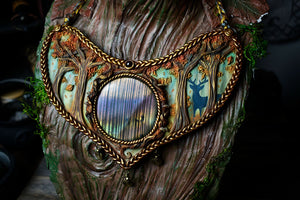 A hand-sculpted polymer clay gorget collar necklace featuring an autumn forest landscape with a labradorite in the center, a small garnet on top, and 3 brass charms hanging from the bottom.
Collar measures approx. 7.25" wide, 4" long in the center, and has a braided acrylic yarn cord that you tie on at whichever length you want.
Polymer clay can be pretty sturdy, but please treat this piece carefully because a good whack against something or dropping on the floor could potentially damage it! The sides of the collar have some flexibility to them but do not purposely try to bend or pose them.