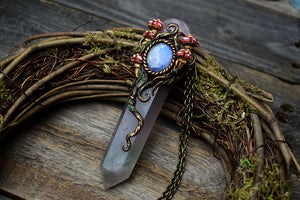 A hand-sculpted polymer clay necklace featuring a fluorite point with a moonstone and a rose quartz sphere on top surrounded by mushrooms. This is a large and heavy piece that weighs 5.7 ounces! Please do not purchase if you intend to wear it as jewelry and can't handle heavy pieces.
Pendant measures approx. 5" long and has a 30" bronze colored iron chain.
Polymer clay can be pretty sturdy, but please treat this piece carefully because a good whack against something or dropping on the floor could potentially damage it!