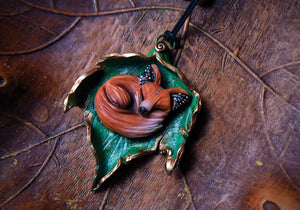 A hand-sculpted polymer clay fox with monarch butterfly wing ears sleeping in a leaf. 
Necklace is 3.5" long and comes on a black cotton cord that has a sliding knot. 
*IMPORTANT NOTE: This piece is sculpted using a polymer clay called Cosclay! It is meant to be a flexible clay even after baking! So, if you are wondering why this piece is flexible and if that's normal, it totally is. 
Polymer clay can be pretty sturdy, but please treat this piece carefully because a good whack against something or dropping on the floor could potentially damage it!