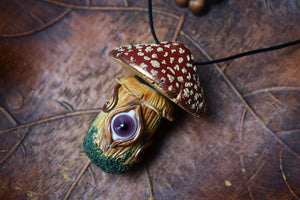 Collab with Thirdeyegypsys - 
A hand-sculpted polymer mushroom vial jar necklace with a glass eye by Thirdeyegypsys.
The mushroom cap twists off to reveal a vial jar inside! Please do not overtwist the cap back on. About two twists is enough to tighten it well, but if it is twisted further it will permanently warp the cap and it will not be able to go back on.
Pendant measures approx. 2.75" long and comes on a black cotton cord.
Third Eye Gypsys - https://www.arwencollective.com/glass-work/
Polymer clay can be pretty sturdy, but please treat this piece carefully because a good whack against something or dropping on the floor could potentially damage it! Do not swim or shower wearing it.