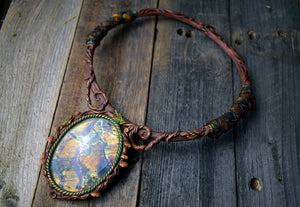 A hand-sculpted polymer clay collar necklace that features a beautiful labradorite and 2 quartz points. There are recycled sari silk and hemp wrappings on the sides.
This collar is made with Cosclay which is very flexible, and has a wire in it. It is flexible enough to take on and off and make small adjustments to fit to your body, but please avoid overbending with a lot of force back and forth as this can weaken the clay and break your piece. 
Collar measures approx. 19" around along the inner diameter of the entire collar, and the center pendant area (where the stones are) is 3.75" long. 

Polymer clay can be pretty sturdy, but please treat this piece carefully because a good whack against something or dropping on the floor could potentially damage it! Please do not wear to shower and avoid getting this piece wet, as it can damage the clear coating that protects the color.