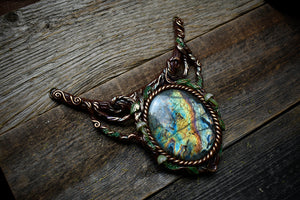 A hand-sculpted polymer clay half-collar necklace with a beautiful labradorite.
Pendant measures approx. 3.5" long in the center, from side to side the entire piece is 5" wide. The piece will come on a brown braided acrylic yarn cord that you tie on. If you want a different color or multicolor cord, please email me with your color preferences up to 12 hours after placing your order!
Polymer clay can be pretty sturdy, but please treat this piece carefully because a good whack against something or dropping on the floor could potentially damage it!