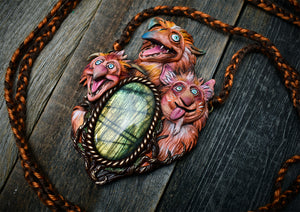 A polymer clay necklace that features a trio of Fireys from Labyrinth with a labradorite. 
Pendant measures approx. 4.5" long, 3.5" wide and will come on a braided brown and orange acrylic yarn cord that you tie on. This is a large statement piece!
Polymer clay can be pretty sturdy, but please treat this piece carefully because a good whack against something or dropping on the floor could potentially damage it!