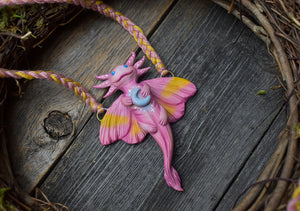 A hand-sculpted polymer clay necklace that consists of an axolotl with rosy maple moth wings holding a moon.
Pendant is approx. 3.5" long and comes on a braided bamboo/cotton blend yarn cord that you tie on.
Polymer clay can be pretty sturdy, but please treat this piece carefully because a good whack against something or dropping on the floor could potentially damage it! Avoid scratching at it and storing it in a way that will have other items scratch against it. Please do not wear to shower and avoid getting this piece wet, as it can damage the clear coating that protects the color.